Resources for Finding a Job in Climate!
I know there are a lot of people out there who want to work in climate (which is amazing!) but are having a hard time finding a job (not so amazing).
So today I'm sharing the best resources I know of for all the climate job seekers out there. If you've been looking for a job in climate or know someone who is, this one's for you 🙂
But first, a quick update on our end-of-year fundraising campaign!
In the last few weeks, we've raised a total of $3,158 toward our end-of-year goal of $20,000.
We know this is an ambitious goal and we really need your help to achieve it. Don't forget, your donation will be tripled!
This means for every dollar you give, we receive $3 thanks to our grant funders. And every one of those dollars goes directly to supporting this action-oriented newsletter, the CS podcast, and the community we're increasingly working to build and connect.
Donate to Crowdsourcing Sustainability and 3x Your Impact!
(If you'd like to donate but would prefer another method such as sending a check, just let me know!)
A huge thank you to the 52 people who have already donated to help us reach this goal!!
Agata Saitta, Aldís Elfarsdóttir, Allard Pieter Mosk, Ana Ivkov, Ariel Hoover, Betsy Franco Feeney, Brian Israel, Brian O'Keefe, Bruce Karney, Chris Meyer, Chuck Tomaselli, Dan H, Deb Matherly, Donna & William Vello, Doris Hagen, Doug Schneider, Elizabeth Bagley, Elizabeth Lynch, Emily Kehmeier, Florent Buisson, Grace Morton, Gregory Kinlan, Jack Kinlan, Jackie Giovanniello, Jeff Battles, Jeff Szot, Jill Kubit, Joe D, Judy Campbell and Jay Delaune, Lara Scott Bosley, Mary Jan Greene, Matt Daly, Matthew Alfano, Michael Moran, Michele Liziero, Mike Kennedy, Mitch Nelin, Monica Warren, Nancy Richter, Pat Ferrone, Patrick and Rachel, PJ Mensel and family, Robert Connors, Roy Russell, Sam Dushay, Silje Rodahl, Susan Zugaib, Thanika Amnuayskul, Tom Atkinson, and people who wish to remain anonymous.
You're helping to sustain this work and scale its impact. We truly appreciate your partnership in helping to make all of this possible.
Finding a job in climate
I absolutely love it when someone tells me they've made the switch and found a job in climate. (It's even sweeter when someone says CS helped inspire or empower them to do it – so please do keep sharing these stories, they always make my day 🙂
I love hearing this because choosing to work on climate solutions is one of the most impactful things someone can do.
Most of us spend over 80,000 hours working over the course of our lives. That is a lot of time and energy. So when someone switches to a career in climate, it means they're now investing all that time and energy into scaling and accelerating climate solutions. And we need so many more people investing their time in that.
Switching careers is, of course, a major decision. For some important context and ideas on how to think about it, I highly recommend you check out our, "Why You Should Get a Job in Sustainability. And How to Begin the Search." newsletter from 2019. As well as the "Finding your place in the climate movement" section in our climate action guide which includes useful frameworks like this: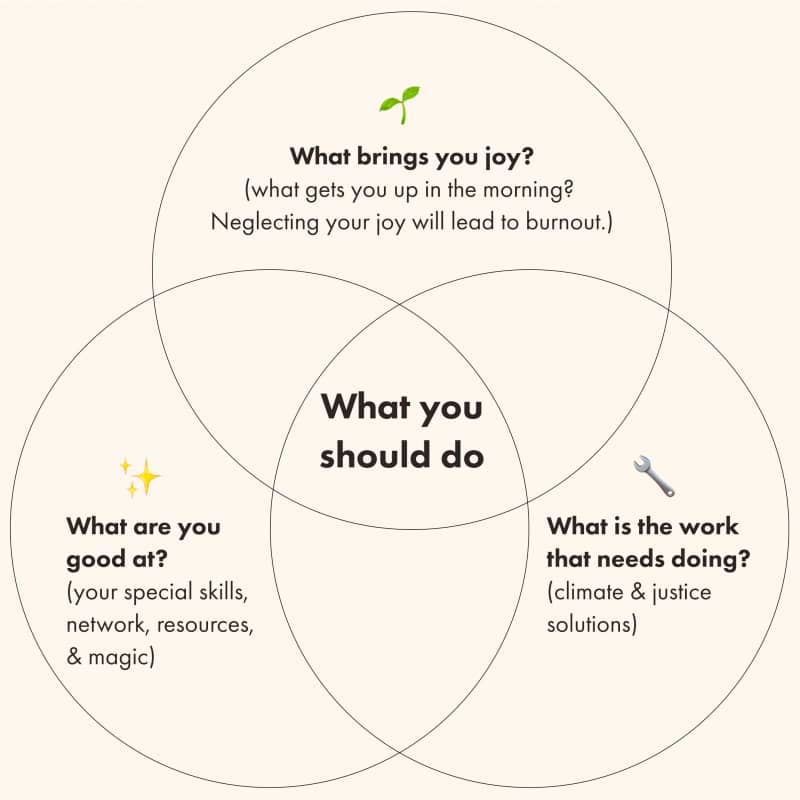 Once you have an idea of what solution you want to focus on or the type of work within climate you want to do, connecting with people who work in that space and searching climate-specific job boards are key.
When it comes to climate job boards, here's a list of the best resources that I'm aware of. I hope it serves you well!
(as always, if you know of others that should be on this list, let me know)
---
Another way you can make a big climate impact through your career is to…
Help your current company or organization become climate positive
Finding a job at an organization focused on sustainability is fantastic. But let's not forget that every job is actually a climate job. Because, one way or another, every job and company has an impact on our Earth, our ecosystems, and our climate. That means you have power to create meaningful change no matter where you work!
Working to help make your current company climate positive is super important work and enables people to leverage their institutional knowledge of the company, existing relationships with co-workers, and hard-earned expertise for good. There are a lot of companies (read, nearly all of them) that need to make massive changes to become sustainable. And employees are the people who, by definition, are going to be the ones to make that happen.
I think the most comprehensive framework and resource for employees is Drawdown Labs's "Climate Solutions at Work" guide. I cover it and interview Jamie Beck Alexander about it here (where you can also explore ideas such as how to even start the conversation with co-workers).
More fantastic resources:
​
No matter what company you work for, you can try to integrate the work of accelerating climate solutions into your job and the organization's actions.
Final Thoughts
A large and increasing majority of people say that it's important to them that their job is meaningful – that their work makes a difference.
Many are also wondering what more they can do on climate.
I would encourage anyone thinking about these things to figure out the best way for them to make a positive impact on climate via the work they do.
Working on climate is meaningful because you are ultimately working to protect the people you love, the place you call home, and all of life.
But it's not just meaningful work. It's also a wise career move because society is being forced, by the laws of nature, to transform. Industries working on climate solutions are growing and will likely be around for the rest of our lives. Demand for these solutions is baked in by necessity because society needs to become sustainable and resilient to climatic changes asap.
Plus, by some estimates, there will be more jobs in sustainability than there will be people with the skills to do them in just the next few years. So we need more people working on climate professionally!
Figuring out how and where to get involved might not be the easiest process. But it's a worthwhile one. And I believe there are ways for everyone to get involved.
Everyone has different skills, experiences, knowledge, and networks. And we're going to need all of them to solve the greatest challenge facing humanity today.
If you don't already work on climate, consider this a friendly invitation to begin pondering what it might look like and if it feels right for you 🙂