Back to Basics: Truths and Life Intentions
Believe it or not, I've put more time into crafting the following 200 words than anything else I've ever written.
I wrote my "Truths and Life Intentions" a few years ago as a way to decide what matters most to me. It changes ever so slightly over time as I grow and learn.
I never planned on sharing it with anyone. And it feels pretty scary to do so honestly.
But I'm finding its simplicity and principle-like nature especially useful right now in this stressful, chaotic, painful, and enormously consequential moment in time. It's kind of a north star for me. So I figured part of it might resonate and be helpful for you too.
If nothing else, you'll understand where I'm coming from a bit better – my flavor of crazy 🙂
Also, for the record, I'm still not very good at actually following all these intentions and keeping these truths in mind all the time.
But I'm getting a little better over time. And that's the point.
Truths and Life Intentions
I am going to die. It could happen at any moment.
But I am here now and that is truly a miracle.
All known life is a miracle. We live on earth – just a pebble in the vast cosmos, our only home.
All life on earth is biologically related to each other. A family.
We are made of stardust. We are one.
I am aware my life simply consists of a multitude of nows. And do my best to live in the now as often as possible. It's all I'll ever have.
I will make the most of my time, being true to myself and living out my values.
I invest my precious time:
– Loving myself.
– Loving family and friends.
– Loving all other life I interact with.
– Working to prolong the existence, and maximize the quality, of life.
I do this because I love life. And I want as many people as possible to have the opportunity to experience a good life, including my future kids.
In my heart, I know contributing to others' happiness and making the world a better place is the right thing to do.
By being conscious of these truths and consistently acting on my intentions, I will flourish.
Personally, I'm focused on getting better at the taking care of myself part of this right now.
Society-wide, I think we'd be smart to go through a similar exercise by taking the time to reflect on what matters most to us. Let's have an honest discussion about who we are now as a society, who we want to be, and what our relationships with the ecosystems we rely on should look like. Let's re-imagine what is possible. And how we measure success.
We need to have these discussions now because society is at a breaking point. "Normal" was (…is) filled with suffering, inequality, and horrifying future prospects. We have a choice to make.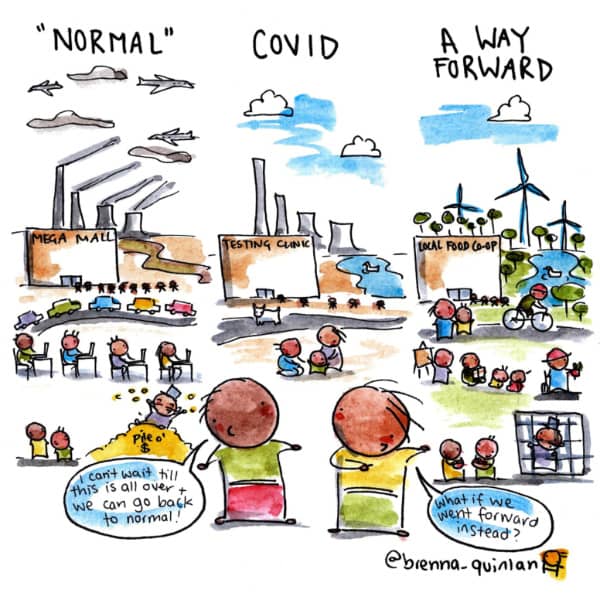 What comes next is up to us.
It's impossible to understate how consequential the next weeks, months, and year will be.
And I just hope enough of us push for rebuilding a way of life that actually reflects our collective values.
A society that is life-giving, rather than life-taking.
This current system is big, clunky, overwhelming, corrupt, and broken.
But we are all a part of the system. Therefore, we have the ability to influence it.
"Start where you are. Use what you have. Do what you can." – Arthur Ashe
And please take care of yourself!
You matter more than you'll ever know 🙂
Much love,
Ryan