Latest climate crisis fueled disasters
Wildfires send California into a state of emergency
"It's been an apocalyptic few days, even by California standards." – Julia Wick
As if the historic heatwave, rolling blackouts for hundreds of thousands (because of the heatwave), and the ongoing pandemic weren't enough, California was hit by a blitz of nearly 11,000 lightning strikes in a 72 hour period this week. This sparked most of the 360+ wildfires currently raging across the state, burning more than 500,000 acres of land so far…some of these fires are so hot they actually create their own weather in the form of fire tornadoes.
As Cal Fire chief Mark Brunton put it, these are "burning conditions that are unprecedented and unseen by veteran firefighters."
At least five people have died so far. Tens of thousands of people have been forced to evacuate their homes (at least). Tens of thousands of buildings are at risk of burning down. The fires aren't even close to contained. Firefighters are stretched thin.
And millions of people are breathing the more-toxic-than-usual air due to extreme heat and the smoke traveling hundreds of miles (Northern California had the most toxic air in the world the other day).
Cal Fire announced: "Residents have to have their bags packed up with your nose facing out your driveway so you can leave quickly. Everybody should be ready to go, especially if you're in a wildfire area."
As scary as it is in California right now, it has just 1/3 of the US's large wildfires. Colorado, Alaska, Arizona, and others have a lot too as much of the Western US has been in record-breaking heat.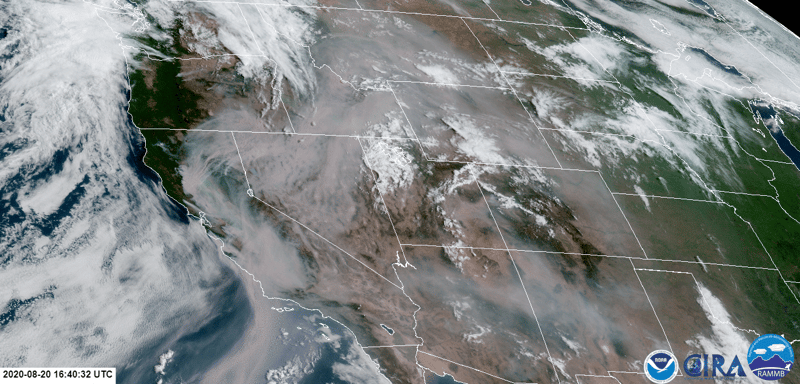 (NOAA satellite image on 8/20/2020. There's a 1,200-mile trail of smoke going that extends over the ocean.)
A NOAA smoke model predicts smoke over half of the entire USA and beyond by Saturday.
Extreme rainy season has killed 1,300+ people and displaced 15 million+ so far in India, Bangladesh, and Nepal
This record-breaking monsoon season is wreaking havoc in South Asia.
"This is always a season marked by monsoon rains in India and the wider region, but the rainfall total for August has already been 15% above the typical level, nationally. Some southern states have seen rainfall 70% above the normal levels…Over 1.1 million acres of crops have been damaged in four states, according to government data." – Arshad R. Zargar
Dharna Noor has a particularly powerful article on this, "The climate disasters we ignore today will eventually come for us".
I first learned of this only last week when I saw this viral video on Twitter of two men being saved while cascading down a street-turned-white-water-rapids. And the eye-popping stat that 40% of Bangladesh is now underwater.
As Dharna puts it:
"Hundreds of thousands of homes have been destroyed, including entire villages. In a just world, this would be major news…"

Iowa was just flattened by a derecho
Yeah, I hadn't heard of a derecho before either. They're somewhat rare.
On August 10th and 11th, a straight-line wind-storm bull-dozed its way through 700 miles of Midwestern states over the course of 14 hours. The derecho killed four people and likely caused billions in damage as homes, crops, commercial buildings, cars, infrastructure, and trees were battered.
Over 1 million people lost power. Hundreds of thousands didn't have power for days, and at least 10's of thousands still don't have power.
Winds averaged over 60 mph, gusting up to an estimated 140 mph. Overall, it was the equivalent of a level-two hurricane…that nobody saw coming.

Ten states were impacted but it looks like Iowa was one of the worst-hit.

"The storm was the equivalent of a 40-mile wide tornado that rolled over 100 miles of the state" – Dusky Terry
The derecho tore through nearly half of the entire state (14 million acres), impacting about 66% of the corn and soybeans planted in 2020.
I think it's hard to imagine what any of these events are actually like unless you experience it for yourself. But to paint the picture a bit better, here's how local photographer Ben Kaplan described the aftermath in Cedar Rapids, IA in an article on Medium:
"Generators are sold out. Many gas stations sold out of gas. Cell service and LTE is spotty or nonexistent. You can't call 911. The city has implemented a curfew from 10 p.m. to 6 a.m. There are no lights in the city. You can see the milky way from downtown…There is no trash pickup. There are one hundred thousand fridges of rotting food. There are raccoons. There is no escape from the heat, except to run out of town to look for basic supplies in an air-conditioned car. Downtown, bricks and glass litter the sidewalks. Plate glass windows shattered during the storm. Many businesses have been physically destroyed. All restaurants lost all of their perishables. Factories are closed. Offices are closed. The economy — the whole thing — is stopped."