Latest Effects Of Global Warming & Some Very Good News
So…yeah. Things are really bad.
Global warming is ramping up everywhere.
1. Antarctica had T-shirt weather
In February of 2020 it was 69.35°F (20.75°C)…in Antarctica. That's T-shirt weather. Context: it usually doesn't get above 50°F (10°C). This smashes the old temperature record set mere weeks before.
"We have never seen anything like this." – Carlos Schaefer (Antarctic scientist).
2. Australian wildfires burned forests as big as the state of Virginia
Australia's wildfires have burned an "unprecedented" 21% of the continent's forests – an area about the size of Virginia in the US.
"Under a scenario where emissions continue to grow, such a year would be average by 2040 and exceptionally cool by 2060". – Benjamin Sanderson and Rosie Fisher
Over 30 people and about 1 billion animals have died. Thousands of homes were destroyed and thousands of people fled to the beaches for refuge from the flames.
After 240 days, Australia's bushfires finally stopped burning in New South Wales – in large part because of record-setting flash floods. Sydney, for example, received its heaviest rain in 30 years. This, of course, is causing a whole host of other issues. It's especially bad because the fire left bone dry ground (cement-like), so water isn't absorbed as well. And toxic ash from the fires has been spread by the floods. Hundreds of people had to be rescued and over 100,000 lost power.
"Australia is becoming extremes. You know, we're either having absolute drought or intense rainfall. And it just doesn't seem like there's a normal anymore. We're not getting normal rain or normal dry. It's one extreme or the other." – Julia Holman
3. People are battling locust swarms the size of cities for food
Locust swarms the size of cities are wiping out crops that tens of millions of people depend on to survive. A swarm that's 1 square kilometer large (.39 square miles) can eat as much food as 35,000 people in a single day. But swarms can get as big as several hundred square kilometers and are capable of traveling 150 km per day (93 miles). The UN has warned of a "humanitarian crisis" due to food shortages in several East African and nearby Asian countries.
"Left unchecked, the numbers of crop-devouring insects [in East Africa] could grow 500 times by June." – Food and Agriculture Organization
The massive swarms are the result of the perfect storm of global warming-fueled climatic conditions (a combination of an extreme ocean pattern*, record-setting cyclones, historic precipitation, and warm temperatures). Read this, this, or watch this for more details. Some experts believe these locust outbreaks could become more common as the world gets hotter.
*The extreme ocean pattern (Indian Ocean Dipole) is actually the reason for both the heavy precipitation that caused the locust outbreaks and the droughts in Australia. Everything is connected.
As usual, most of the media is failing to properly cover these stories (in the US at least). There are different levels of this.
Oftentimes they fail to give air time to important climate stories entirely. Or they cover a story where the ties to climate change are obvious, but they neglect to mention it at all. But even when they do talk about it, it's usually not very well done.
The climate crisis is the biggest story of our time. The lack of quantity and quality of reporting on the climate crisis is not only mind-boggling but a disservice to everyone. They're failing to tell us the truth of how dire the climate crisis is, how it affects everything, and how much it matters to all of us – now.
The good news!
More and more people are coming around every day 🙂
More Americans are "Alarmed" about global warming than anything else (finally!)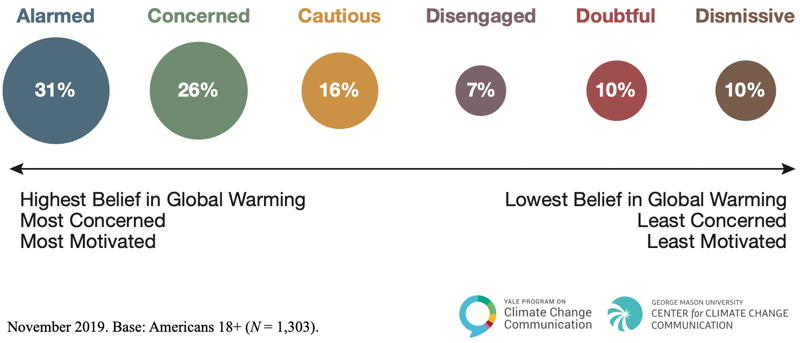 And the number of "Alarmed" citizens have nearly tripled since 2014.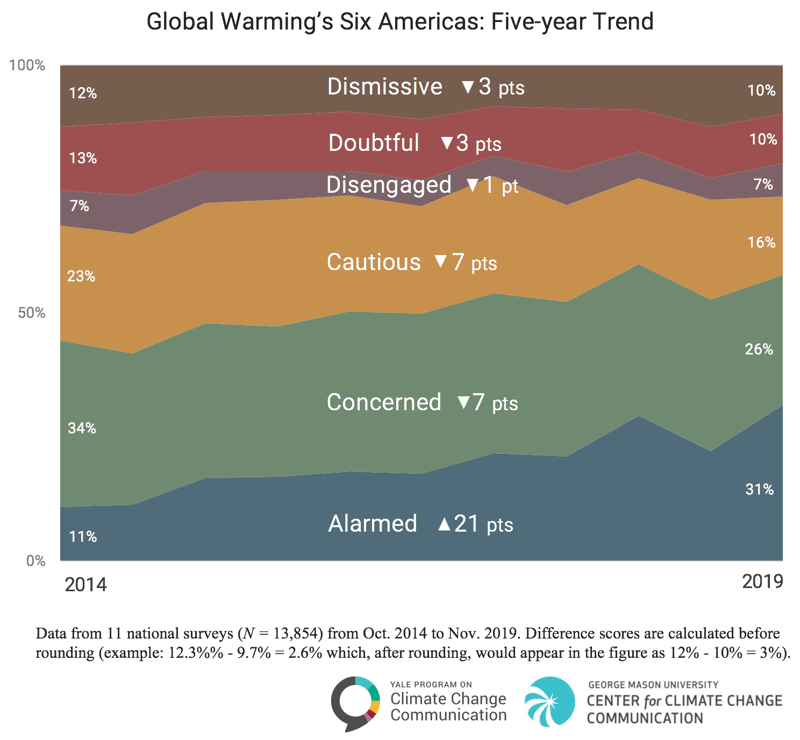 Given that alarm is the appropriate response to a dire emergency such as the one we find ourselves in, this is welcome news. It's still frighteningly low, but we're moving in the right direction and do have enough people to start making the needed systemic changes.
Loads of people are ready for non-violent civil disobedience
"If asked by someone they like and respect, one in five Americans (20%) say they would personally engage in non-violent civil disobedience [to reduce global warming]." – Latest Yale report on climate activism
May I remind you that it only takes 3.5% of a populations active and sustained participation to win a campaign 🙂
We've just gotta organize!
By the way, if you know of better global data on this kind of info please let me know.
"Social change is a million individual acts of kindness. Cultural change is a million subversive acts of resistance." – Mary Pipher