Drawdown Georgia – a community & localized roadmap for climate action!
If you've been reading this newsletter for some time you'll know I'm a big fan of Project Drawdown (aka "the world's leading resource for climate solutions").
I believe they've accelerated climate solutions and helped change the way millions of people see climate action. Instead of thinking it's a sacrifice or a cost, more and more people are realizing that climate action will have massive benefits for people's well-being, the economy, and all life on earth.
But one question that I and many others had after reading their book was this:
What does all this mean for me – for where I live and work?
You see, the extensive research and list of solutions were for the entire planet. But there was no way of easily knowing what the best solutions were for a given town, city, state, country, or company because the most impactful solutions can vary significantly from place to place.
Thankfully, people are working hard to localize these climate solutions (e.g. Drawdown Europe, Drawdown Labs for corporations).
Recently, I had the pleasure of interviewing Blair Beasley and Lisa Lilienthal about their work at Drawdown Georgia. The Drawdown Georgia team has rigorously researched the best climate solutions for Georgia and created a platform for people to come together and accelerate climate action in their state.
In this interview, you'll hear Blair and Lisa's climate stories, learn how the climate crisis is impacting Georgia today, learn what Drawdown Georgia is and how they're helping accelerate climate solutions, and get advice on how to get involved or how to start a drawdown initiative in your own state!
Blair Beasley is on the core research team for Drawdown Georgia and is also the Director of Climate Strategies at the Ray C. Anderson Foundation which is funding Drawdown Georgia.
Lisa Lilienthal is a Principal leading the Purpose Practice at a company called Dialogue. She's heavily involved with Drawdown Georgia's content and community and helped bring Drawdown Georgia and Groopit together to launch a crowd-solving platform.
You can listen to our conversation here on the CS podcast or watch on YouTube. Hope you enjoy!
Timeline:
0:00 Intro.
2:00 Blair's climate story.
3:30 Lisa's climate story.
7:45 How Drawdown Georgia came to be & how they got involved.
9:30 What "drawdown" means and what Project Drawdown is.
14:20 How the climate crisis is affecting Georgians today.
17:20 The often overlooked social benefits of climate solutions.
20:30 Drawdown Georgia's theory of change & menu of solutions.
31:00 Exciting initiatives and collaborations so far.
33:30 How can Georgians get involved? How is Drawdown Georgia crowd-solving?
41:30 Advice for individuals to start a Drawdown initiative for their own city, state, or region.
49:15 Setting statewide goals that are ambitious and achievable.
53:50 Researchers at GA Tech are building a map to track GHG emissions in real-time for every county in GA.
55:30 Favorite solutions?
1:00:00 Book and podcast recommendation.
1:02:00 Final thoughts and advice for listeners!
Key Takeaways
A useful framework for understanding the effects of climate change is "The 3 W's" which says, on average, things are warmer, weirder, and worse.
Drawdown Georgia embodies the philosophy of "brighten the corner where you are". The climate crisis is a massive global problem – take action where you live and work!
Drawdown Georgia identified the top 20 high-impact, existing climate solutions for their state. Their research shows that a 1.5°C-aligned pathway is achievable in Georgia (even going carbon negative is technically possible!)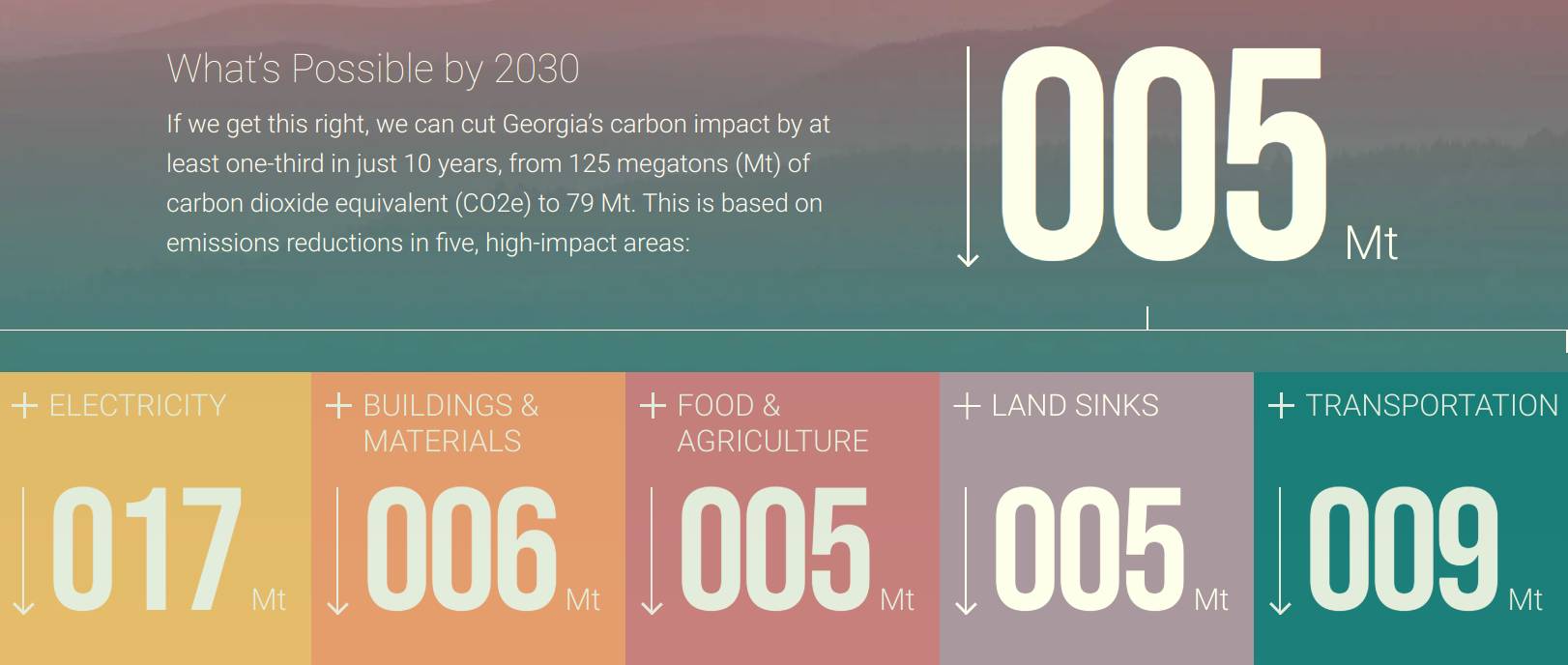 They're using an online platform called Groopit to connect and collaborate.
"This is a huge problem. Our goal at Drawdown Georgia is not to take it on ourselves completely but instead to help other people go further faster." – Blair Beasley
​Sign up for the Drawdown Georgia newsletter to get involved or follow their progress!
If you want to learn more about how to start a drawdown initiative for your own city or state, check out Drawdown Georgia's resources page and feel free to reach out. They're super friendly and want to make it easier for you!
Favorite quotes
"We're all in the same storm. But we're not all in the same boat." – Na'Taki Osbourne Jelks
"The potential is huge to go further and faster and start reaping some of these benefits of a clean energy future for our state." – Blair Beasley
"No matter what your job is I bet there's an opportunity for you to integrate climate action into what you do at work. That's what I really love to challenge people on – how can you integrate climate action into what you do for work. – Lisa Lilienthal
"People often ask, 'what can I do?' And what I always tell people is – 1. you should think about your own carbon impact. It is what I like to think of as necessary but not sufficient to meet the challenge at hand…and then you should think about – what is that largest level of change that you personally interact with? Maybe it's your church. Maybe it is your school. Maybe it is your job. Maybe you want to lobby on a state or federal level. Where do you see this larger than self opportunity? I think we will all surprise ourselves by knowing that we can make a difference by reaching there. So starting at home but reaching to where your community lies. And for people in Georgia – when they think about what would it mean to reach, I hope they look to our solutions for vetted opportunities that we know work here at home." – Blair Beasley
Final Thoughts
I love what Drawdown Georgia is doing.
Rooted in robust research, they've created a solutions roadmap for Georgians to rally around. Whether someone is already working on climate or is looking for ways to get involved, there's now a space for everyone to connect, collaborate, and move forward together.
I see a lot of parallels between this work and Crowdsourcing Sustainability, so I'm excited to follow their progress and apply lessons learned.
Finally, I hope this leads to more Georgians connecting around the Drawdown Georgia table. As well as ultimately helping to plant the seeds for new drawdown initiatives to spring up in different regions.
So please spread the word to anyone and everyone you think may be interested 🙂